Next Steps
Wherever you are in life, you will always have a next step to take as you grow.
Trinity is here FOR YOU as we move forward together in faith, hope, and love along the path God has planned for us. Learning to travel that path with Him is called discipleship, and we want to be there alongside you as you discover God's plan and purpose for your life.
We acknowledge that everyone's relationship with Jesus progresses differently, but at Trinity we are intentional of being part of worship, community, Bible study, and service to others. We believe that if we are intentional to be in all three of our discipleship components, we will experience a much fuller spiritual life with Jesus and others.
Are you ready to start? It's as simple as 3, 2, 1...
Worship THREE times a month.
God has called us to set aside time to focus on Him and find rest from our day-to-day lives in worship. We also worship God when we actively support the church's mission with our resources, including our time, energy, gifts, abilities, and finances.
WORSHIP INFORMATION
Connect with others around God's Word TWO times a month.
Engaging in Bible study brings people together around God's Word. Our relationship with God grows as we learn to daily connect with Him. We also believe it is important to engage in meaningful relationships, to share our faith and life together in community with others.
FIND A BIBLE STUDY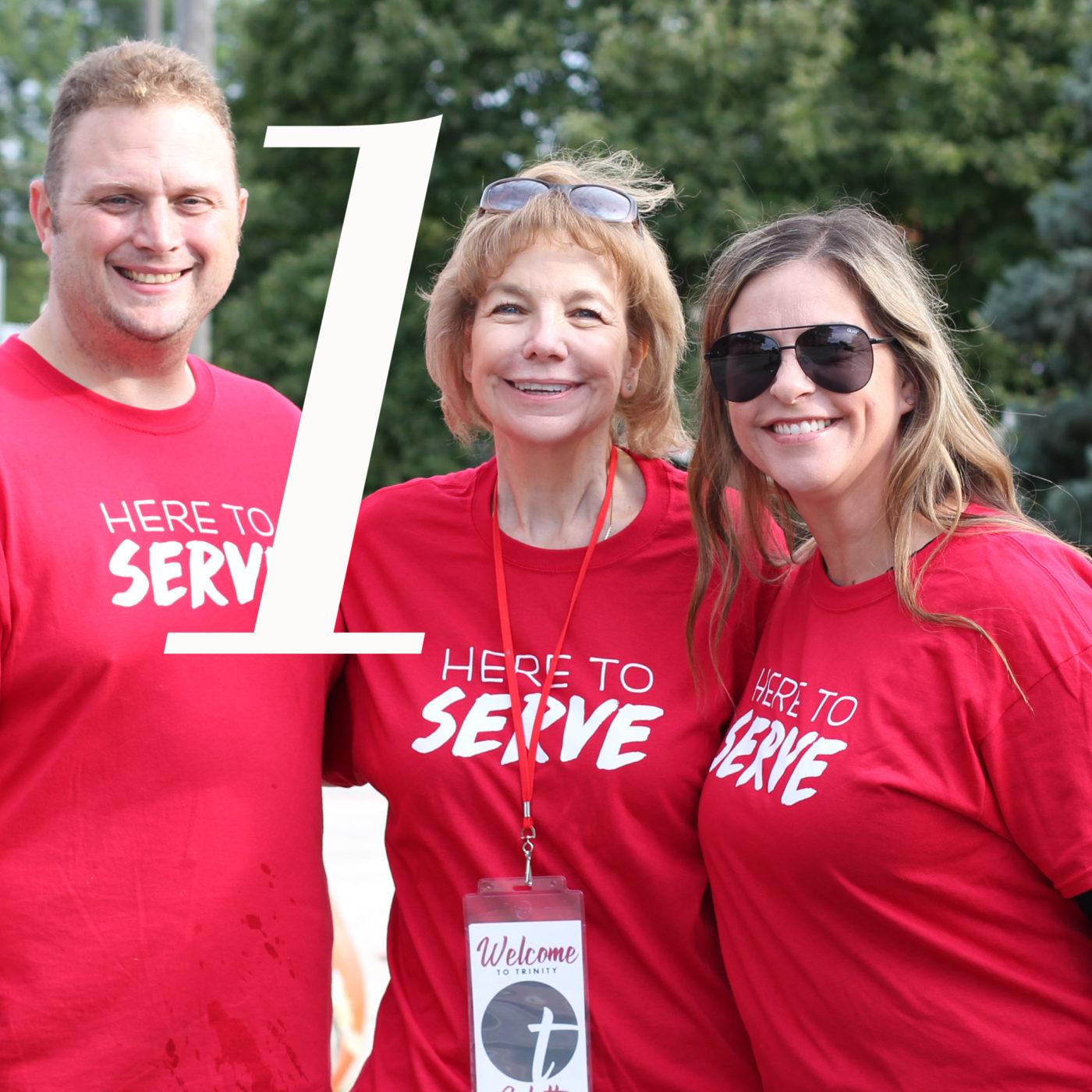 Serve others ONE time a month.
We are called to be the hands and feet of Jesus by serving others. Trinity offers many opportunities to serve through our various ministries.
SERVE OTHERS
LIVE IT OUT the rest of the month.
Every minute of every day is an opportunity to share Christ's story with love to those around us. Whether in our homes, neighborhoods, at school, on the job, with friends, on the field, or out in the community, we have been uniquely positioned to reflect God's love in the world as we serve others.
The next step for membership...
We offer our Step 2 Course as a comfortable place to learn more about what it means to be a member of Trinity. This course is for anyone who has created a connection to Trinity - such as attending worship, participating in an event, or attending our day school - and wants to become part of our Trinity family. You will hear about our beliefs and values and have many opportunities to ask questions as you begin your journey at Trinity.
During the Fall we offer a 6 week course outlining the Catechism and life at Trinity in a fun, interactive way that helps introduce new families to a routine at Trinity.
During the Winter and Spring we offer a one-day retreat where we combine all of the content we would normally learn in 6 weeks into a one-day, 8 hour seminar!
Please contact Christian Growth Associate Janis if you would like to find out more.